Learn, Refine,
& Play With Clay.
At our community-oriented ceramics studio in the heart of old-town Lafayette.
• UNLIMITED STUDIO TIME
• AN ABUNDANCE OF TOOLS
• ONE-ON-ONE GUIDANCE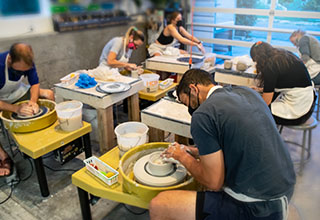 Beginner and Advanced Six-Week Adult Classes are offered 6-8 PM throughout the weekdays. Create cups, bowls, plates, vases and more. Access to open studio for those enrolled in classes.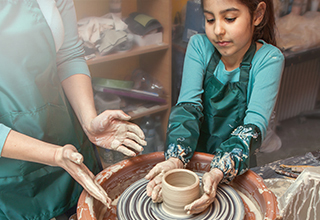 Four-week children's classes are offered on Saturday afternoon from 1 – 3 PM. Parents have the option to participate, if space is available.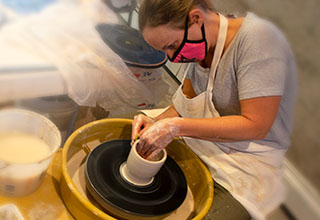 No experience necessary! If your looking to try a one-time class (date nights, birthday parties, etc.) or cannot commit to a full 6 weeks, this is for you.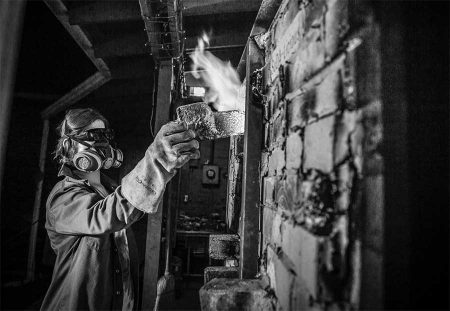 One-of-a-kind creations handcrafted by local artists
Photo featuring Northern Colorado Artist, Abby Einer
Browse our artists' collections or by type of product to find handmade works created by local and Colorado residents!
Our gallery space is dedicated to displaying a wide range of local artists' artisanal handicrafts, including ceramics, clothing, art, and wooden bowls.
We also have displays of artwork from rotating/visiting artists.
Upcoming classes and special events
In addition to our regularly held ceramics classes, Cannon Street Ceramics holds special events throughout the year, including music events with a live DJ, participation in Lafayette's City Stroll, pottery sales in our gallery, and more. 
Artist Series: Kyle Gutierrez
Interview with local artist and owner of Cannon Street Ceramics, Kyle Gutierrez. Find out more about Kyle and his passion to make a difference in his community.
Part of the Lafayette Artist Series, sponsored by City of Lafayette Arts & Cultural Resources. Video produced by NewFocusFilms.com.