Jeanne Capachin is a ceramic artist living in Lafayette and specializing in decorative and functional ceramics. Jeanne is originally from Massachusetts where she picked up ceramics as a creative outlet and has never looked back. Most of her pieces start on the wheel, and are often assembled and altered from multiple thrown pieces to create more complex sculptural pieces. Jeanne has a home studio in Old Town Lafayette and is a resident artist with Cannon Street Ceramics, where you can also find her teaching classes on Friday nights. When she's not in the studio, Jeanne is at Eldora teaching skiing or travelling in her camper with her husband Glenn and their dogs Mustard and Mo.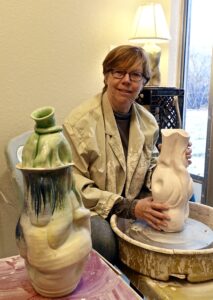 Upcoming Classes and Special Events!
In addition to our classes, Cannon Street Ceramics holds special events throughout the year, including music events with a live DJ, participation in Lafayette's City Stroll, pottery sales in our gallery, and more.